Termite Control
Control and prevention of termites is essential for all homeowners.  As you probably know, termites can pretty much destroy a home within a few months if a colony (or colonies) of termites takes up residence in the wood structure of your home.
Able Pest Abaitment can help with termite prevention as well as treating and eliminating active termites.
The best step you can take for termite control is to have your home treated with preventive measures BEFORE you ever see a termite.
But not everyone thinks to do this.
If you even suspect that you may have a termite problem, do not delay a single day – call us for termite detection, so a termite treatment can be put in place for termite control and eradication of any active termites, and peace of mind that these termite pest control measures will actually ensure protection against reinfestation of termites into the future.
Whatever you do, you must NEVER disturb a potential termite nest – this will cause the termites to disappear and make termite detection and ultimate termite control MUCH more difficult. If you see termite activity, or have any suspicion of termites, do NOT poke around – call us!
Termite Control – Able Pest Abaitment –
Call us on
0419 941 994   (Peter)
or
0424 898 763 (Jayson)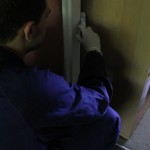 Other Termite Resources and information that may be of interest:
Choice Magazine Termite Report – recognising termite activity, finding a good pest manager, termite control and termite inspections
CSIRO Termite Treatment and Prevention Information – what to look for when thinking about termite control
Termite Control Information – some answers for homeowners – N.B. this is a U.S. site, so the times of year it refers to are different for Australian conditions and termites
General information on Subterranean Termite Control and Termite Biology.
More on Termite Control in the Eastern Suburbs and surrounding areas.
Subject matter for this page – Termite Control